Premium e-commerce experience for wine & food labels
MCC Label is a global provider of premium label solutions. They print superior labels for a myriad of sectors, such as wine and spirits, foods, healthcare products, chemicals and so on. Currently their sales activities are done mainly offline, they want to move part of their business online via e-commerce. We helped them in designing a great user experience for the online order process
At this moment, MCC exclusively provides offline services through the contact between a CSR and the customer. Goal of this project was to provide a way for customers in the wine and artisan foods business in the US to create and order their labels directly online.
Together with MCC we went through a user-centered design process to ensure a smooth and frictionless experience and at the same time benefit from the following ROI:
Reduced operational costs: By allowing customers to design and order labels online, they can cut down on labor costs, particularly those related to customer service representatives (CSR) handling orders. This can lead to savings that can be reinvested so that CSRs can focus on more valuable tasks.
Increased accessibility and convenience for customers: Customers can design and order labels at any time, from any place. This can lead to higher customer satisfaction and potentially increased sales.
Faster order turnaround: An automated online system can streamline the order process, reducing the time between order placement and order fulfilment.
Wider reach: By providing online services, the company can reach a broader audience, including potential customers outside their traditional geographic region.
Data collection and insights: An online system can automatically gather data about customer preferences, popular designs, order frequencies, and more. This data can be used to refine marketing strategies, predict future trends, and optimize the product offering.
Scalability: As the business grows, handling an increasing number of orders through CSRs can become cumbersome. An online system is scalable, handling a larger volume of orders without a proportionate increase in operational costs.
Up-selling and cross-selling opportunities: The online platform can be designed to suggest additional products, premium designs, or other relevant offerings to customers, potentially increasing the average order value.
In a first phase we started with a user and task workshop and interviewed several potential customers in the wine and artisan food business. We also did an online survey with a larger group of potential customers.
Then we mapped out the whole user flow customers need to go through to create the right labels: selecting shapes & dimensions, materials, and finishes, defining the rewind specs (how labels are put on a roll for machine application of the labels), adding the artwork etc. It turned out this was a very complex exercise since there are many dependencies between all these different dimensions.

Only when we had a real good view on the user flows did we start with the design of the actual screens. We visualized our ideas in drawn sketches first. In the next step we created very basic wireframes.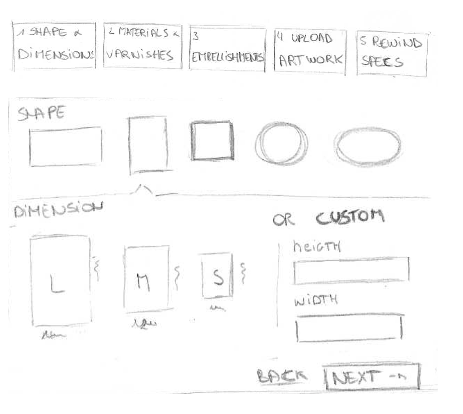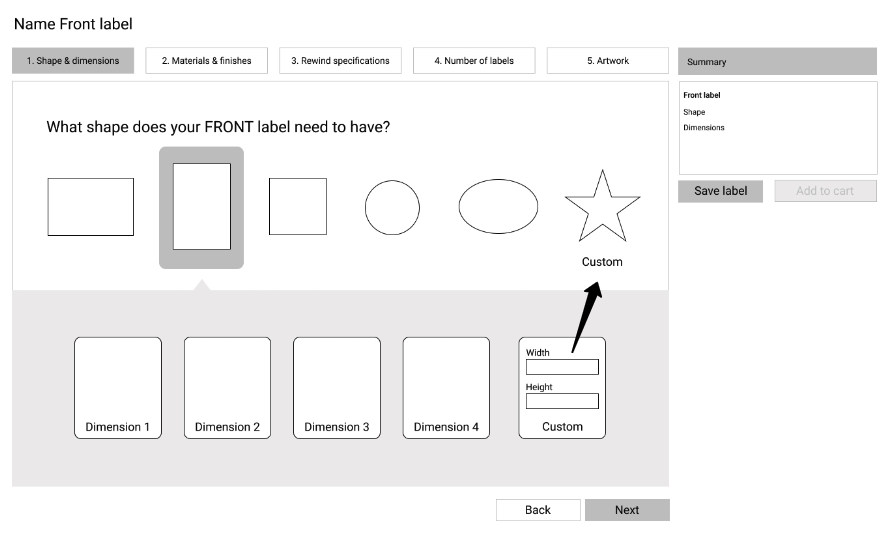 When all wireframes were complete, we concerned ourselves with the graphical design. The shop must not only be greatly user-friendly, it also must have a professional appeal and be in line with the recently renewed MCC brand.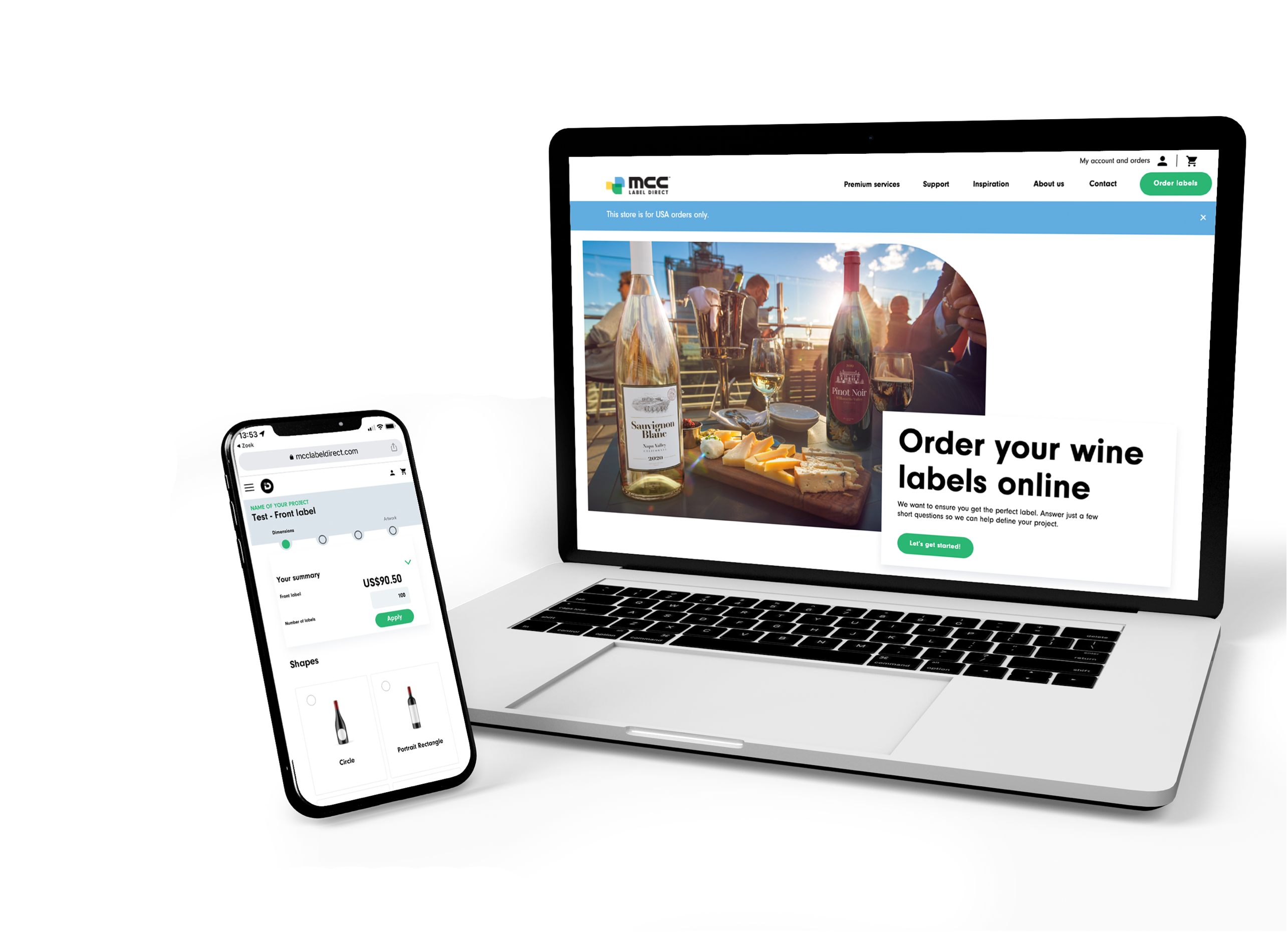 Once the graphical design was validated and applied to all screens, we delivered the pixel-perfect designs in Figma to the development party.