A clear, actionable interface for smart Wi-Fi
Since December 2019 we are the User Experience (UX/UI) partner for Airties, a leading provider of Smart Wi-Fi solutions for broadband operators. This includes Smart Wi-Fi software for residential gateways ("internet box") and a cloud management platform that monitors performance to provide insights on Wi-Fi usage and easy troubleshooting. A clear, actionable interface is crucial for both the homeowners and the operator teams to navigate through a highly technical environment.
From the start, providing the best possible user experience was a top priority for the Airties management. In a kick-off workshop in beautiful Istanbul, we defined the customer journey for the different Airties target groups and defined personas. As a result we have been working on these products:
A mobile application for consumers (Airties app)
Two cloud applications: Insights Dashboard and CareView for ISP managers and helpdesk staff
Mobile application for consumers
The Airties app is deployed on both iOS and Android for consumers to install and manage their home network.
We designed the app from the ground-up and are now involved in the development of the current and new features. Our UX/UI work is integrated into development sprints, monitoring the design being developed and providing the necessary screens for new features.
We also follow-up on the different customized versions of the app for ISPs that want their own brand on the Airties solutions their customers use.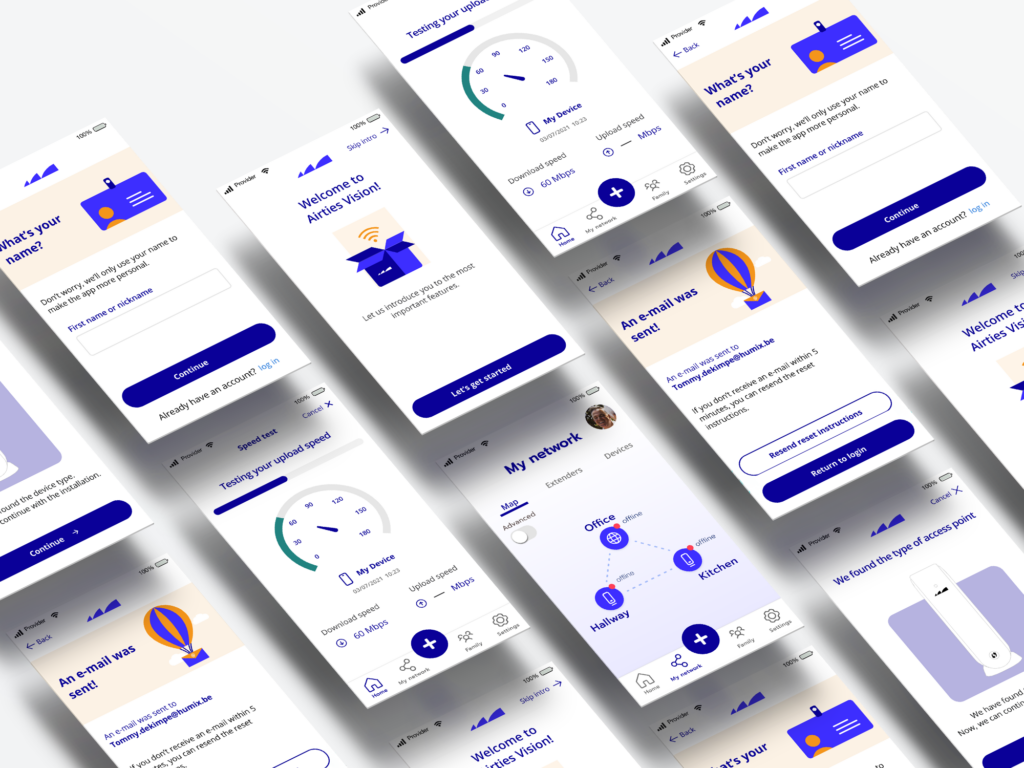 Cloud applications for ISP managers and helpdesk staff
The Insights dashboard offers an overview of the internet use going over the Airties devices. It includes a number of operational and performance KPIs to allow managers at the ISPs to follow-up on the rollout and the performance of the Airties Wi-Fi solutions.
CareView is used by ISP helpdesk staff to assist consumers who are experiencing issues with their Wi-Fi. It is intended to give helpdesk employees a clear understanding of the customer's setup and performance, and includes a series of actionable recommendations to improve network performance.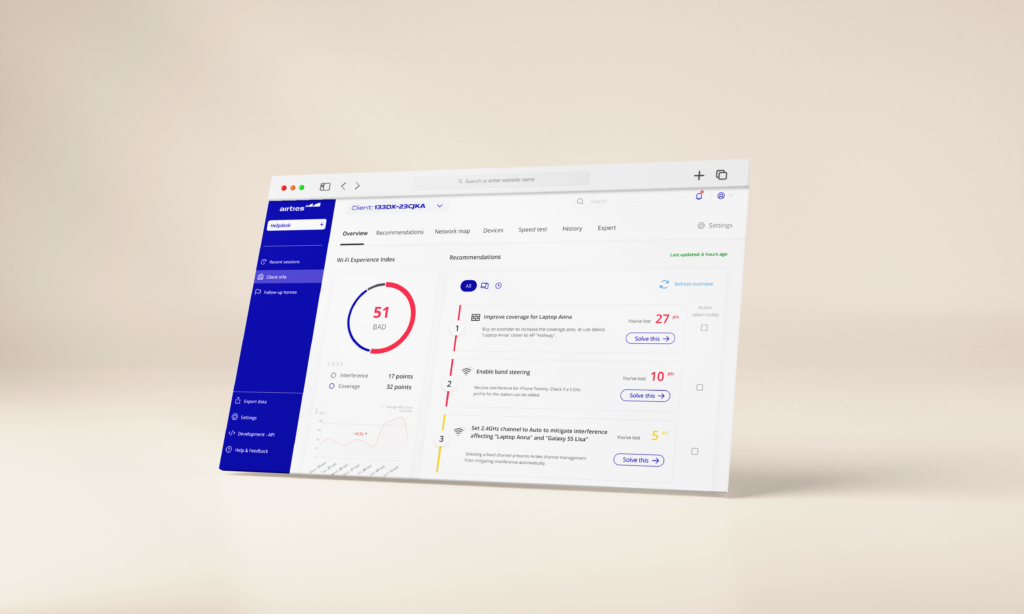 Design screens new features in Figma and hand over these designs to developers
Participate in the design sprints
Set up and maintain an extensive design system in Figma
Follow-up on custom app versions used worldwide
(International) user testing
Maintaining the (renewed) brand guidelines in the design
With their expertise in both user journeys and UX best practices, Humix have supported us for the full cycle from conception and design through to development for several of our critical applications.
Bart Vercammen – Chief Product Officer at Airties