How accessibility will make you money
Why should I include accessibility in my products? It will only cost more time and money…
As accessibility expert I understand this concern of my clients. However, putting accessibility as a cost is a common misconception. An accessible product contains great advantages that can eventually increase your profit. Let me showcase 5 of the biggest benefits.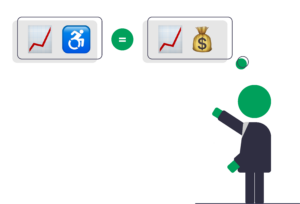 1. Improve your search engine ranking
The first advantage of an accessible product is that it complies with all web standards. Therefore, meeting your accessibility standards will also boost your SEO-score. Of course, this has a positive impact on your online visibility. That's like hitting 2 targets with 1 arrow!
Accessible products will expand your potential customer base. 1 in 4 citizens in the European Union has some form of disability [1]. This percentage is estimated to only increase in the future. Think of the accelerating aging population who have impaired vision. 71% of users with a disability say they will leave your website once they realize it is difficult to use [2].
71% of users with a disability will leave your website if it's hard to use.
You can increase your customer base by taking accessibility regulations into account so that your product becomes inclusive for all targeted users.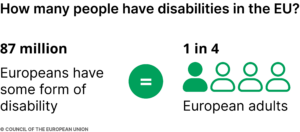 3. You will create a durable, robust and user-friendly product
An accessible product is also a robust product. This means that you will automatically improve the user experience of your product. In fact, many usability problems are similar to accessibility problems.
By working with best practices for accessibility, you will make your product usable on the majority of all available devices, users and even languages.
4. Think about accessibility from the start
It is common knowledge that the cost of change increases as time passes . The majority of accessibility violations (67%) originate as early as the design phase . By thinking about accessibility from the start, you will avoid costly changes in the future.
5. Play by the rules 👉 stay in business
Compliancy with the European Accessibility Act will simply become a legal obligation. By 2025, it will be mandatory at European level to comply with accessibility standards (new European Accessibility Act).
So overall, do not look at accessibility as a cost, but as an opportunity and grab those advantages. If you would like to discuss how to take this further, we are always here for you. Get in touch with me!