Redesigning colora.be and the B2B platform for BOSS paints
BOSS paints is a family-owned manufacturer of high-quality paints based in Waregem in Belgium. As a company BOSS paints is mostly known only by professional painters, but who doesn't know their retail brand colora?
For BOSS paints we were asked to design a series of websites:
The consumer website colora.be
The B2B platform BOSS paints
A corporate website
A pick-up and delivery tool called Depot
The jobsites for colora and BOSS paints
Humix was involved for the UX and UI design while its Xplore Group partner company II.O was tasked with the actual development. The main challenge was to design each of these sites, to fit their respective audiences and goals, but still re-use the same interactions and components to keep the development effort to a minimum. In addition, a very close cooperation and seamless communication between both parties was required. We needed to hand-over pixel-perfect designs so that development could make a spot-on estimation and start the development.
colora.be (B2C)
During the Covid crisis BOSS paints has seen a gigantic spike in online sales on the colora.be platform. The goal of this website is on the one hand to be an easy-to-use e-commerce platform, and on the other side a place to inspire people looking to renovate. It also needed to be an extension of the quality expert advice colora stores are so well-known for. Finally, the site needed to breathe creativity and aesthetics.
A customer journey and persona exercise were followed by some iterations of wireframes. Next, we applied a creative graphical design in line with the colora brand. Our enthusiasm of the new designs was shared by the team at BOSS paints and was decisively confirmed during a run of user testing. Users found the new website beautiful, user friendly and inspiring. "It makes that you want to renovate some more rooms!"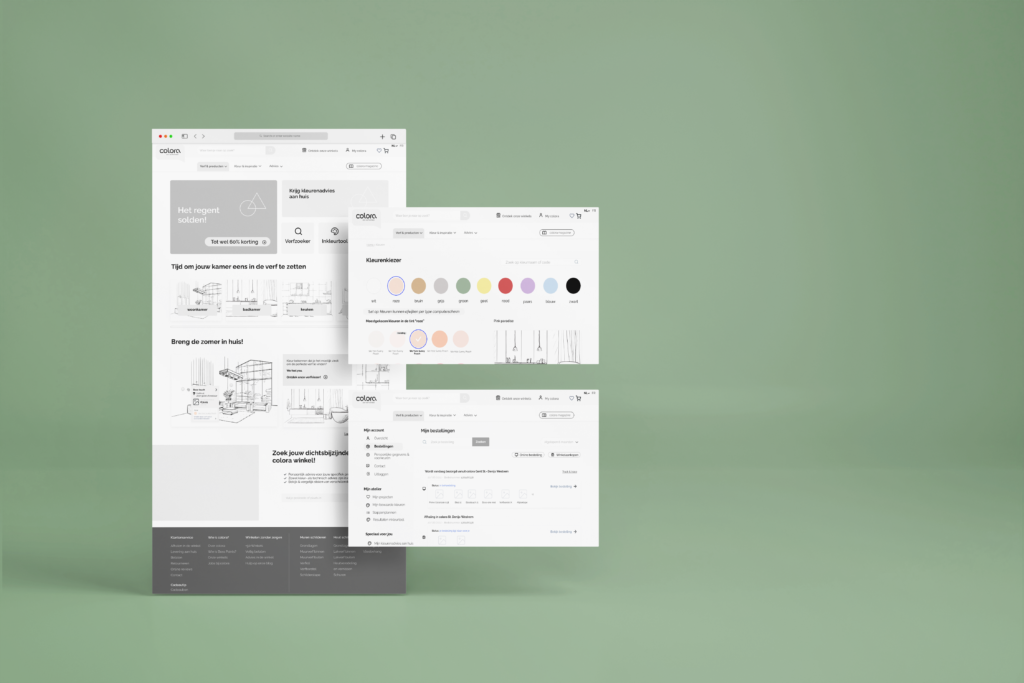 Wireframes for the B2C website colora.be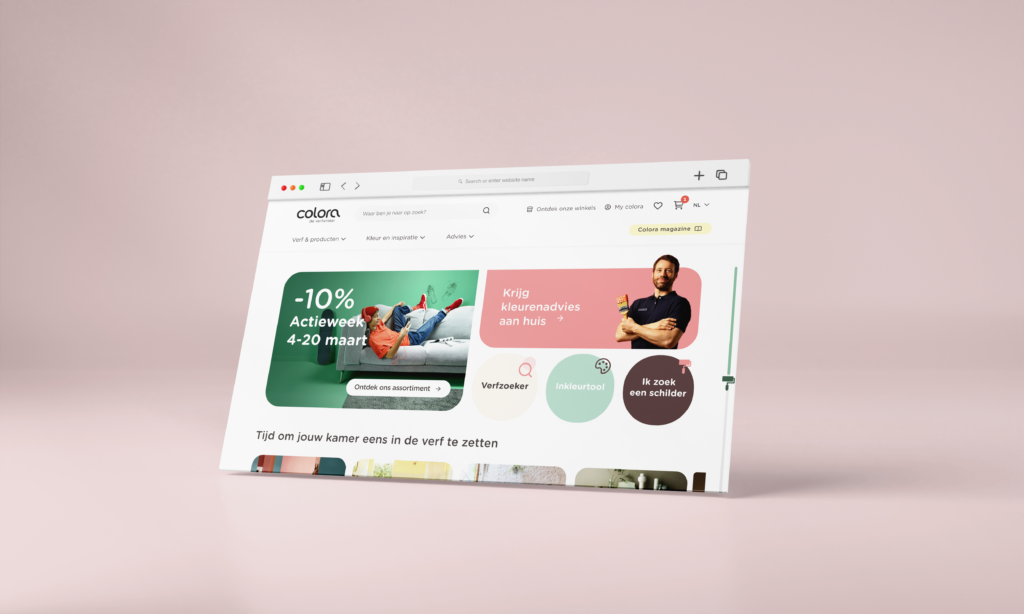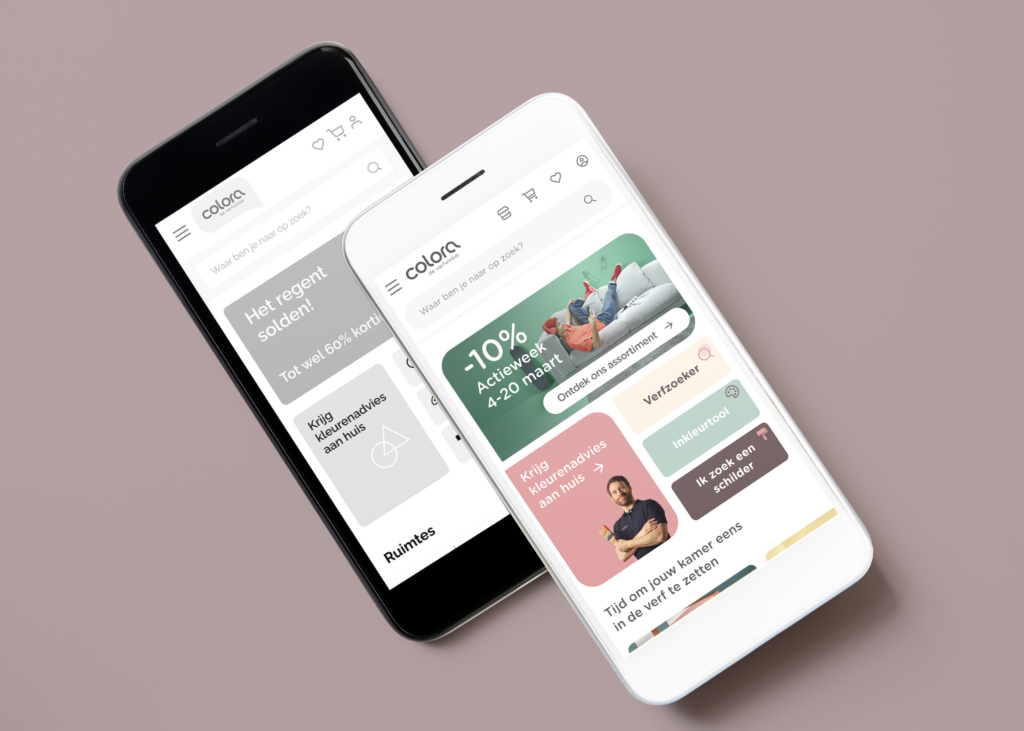 Final UI Design for the B2C website colora.be
BOSS paints (B2B)
 "BOSS paints" is the B2B platform designed to support professional painters in their day-to-day business. The goal was to create a user-friendly and helpful platform to assist professionals to place their orders online. The big challenge was that the new platform needed to serve both independent painters that often order on the site, and larger painting companies with dedicated buyers working on a desktop computer. To make sure we serve both audiences, we designed the new platform mobile first, then provided a desktop version.
Same as with colora.be we started mapping out the customer journey and scrutinizing the personas that already existed. After some iterations of wireframes we applied an effective UI design in line with the BOSS paints brand. The result is a website that responds well to the top tasks of professionals, such as easy (re)ordering, checking prices and accessing additional services and support.
Again, this was confirmed in a series of user tests with independent painters and buyers. Bulls-eye shot.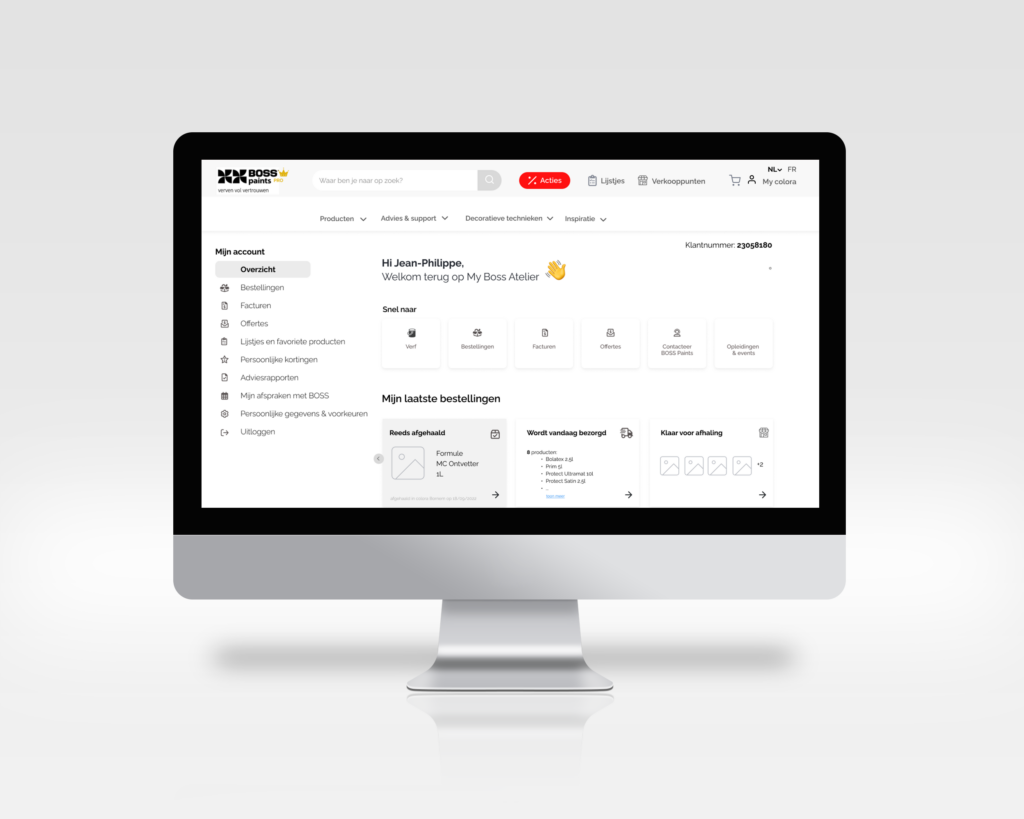 Wireframes for the B2B platform BOSS paints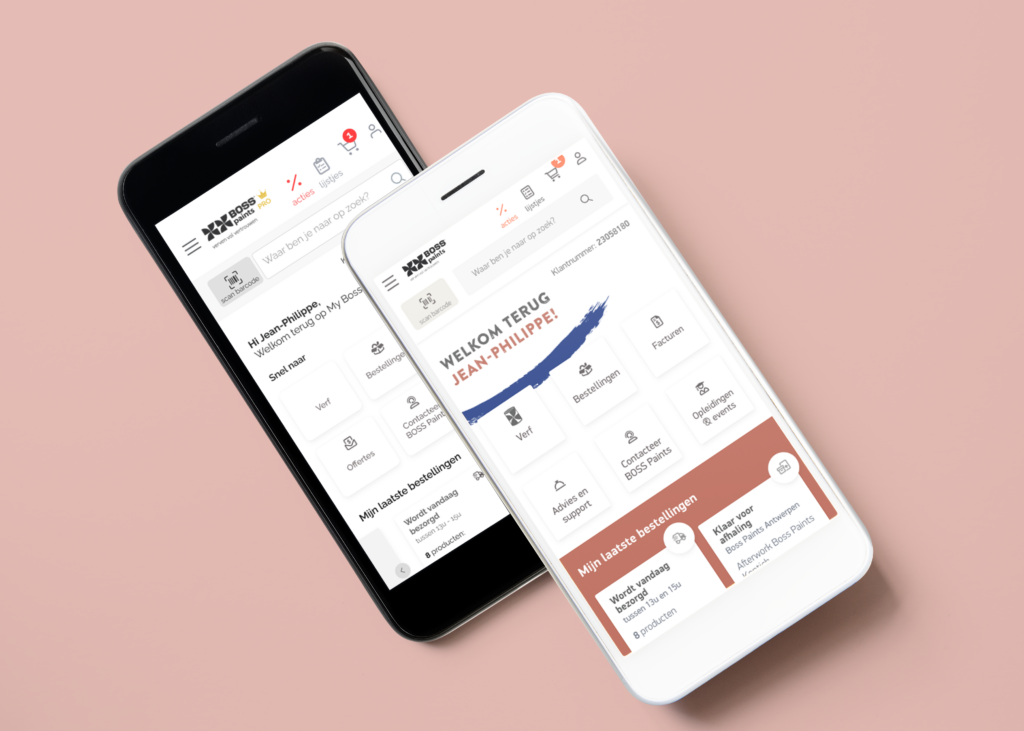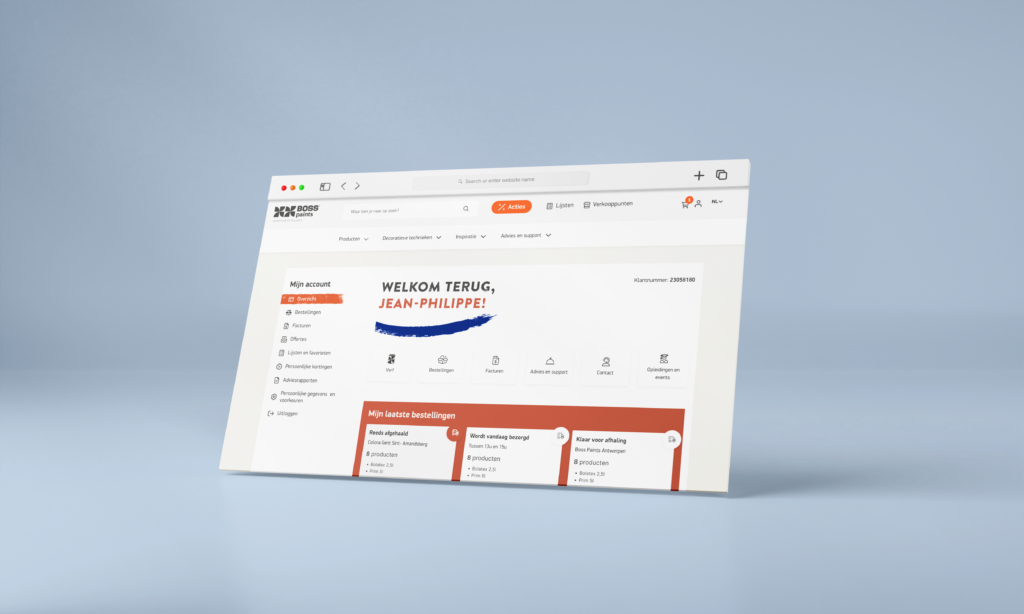 Final UI design for the B2B platform BOSS paints
Other sites
In addition to the previous sites, we also redesigned Depot (an internal application used to facilitate B2B ordering and pick-up in colora stores), the Corporate website and the jobsites.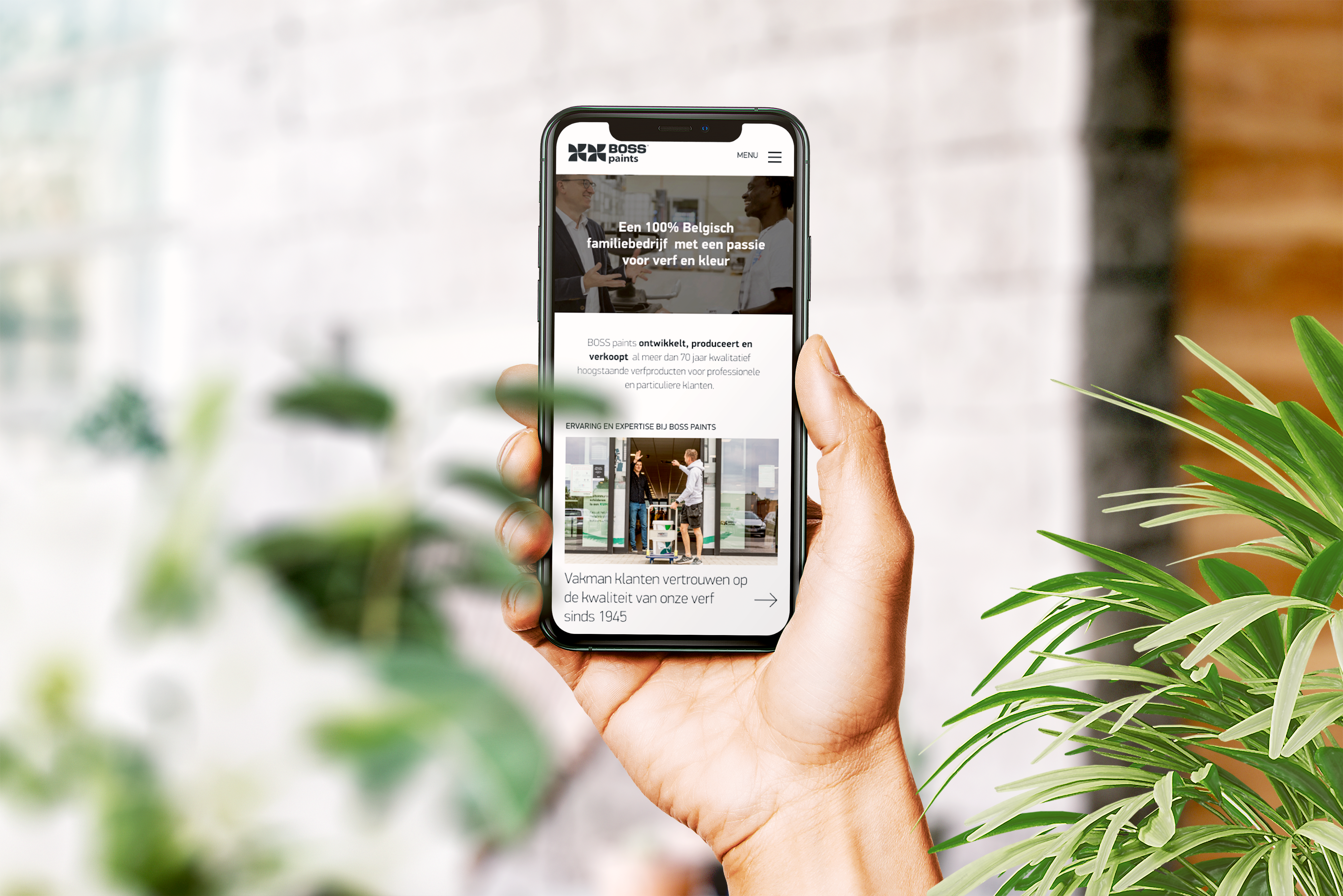 Final design for the corporate website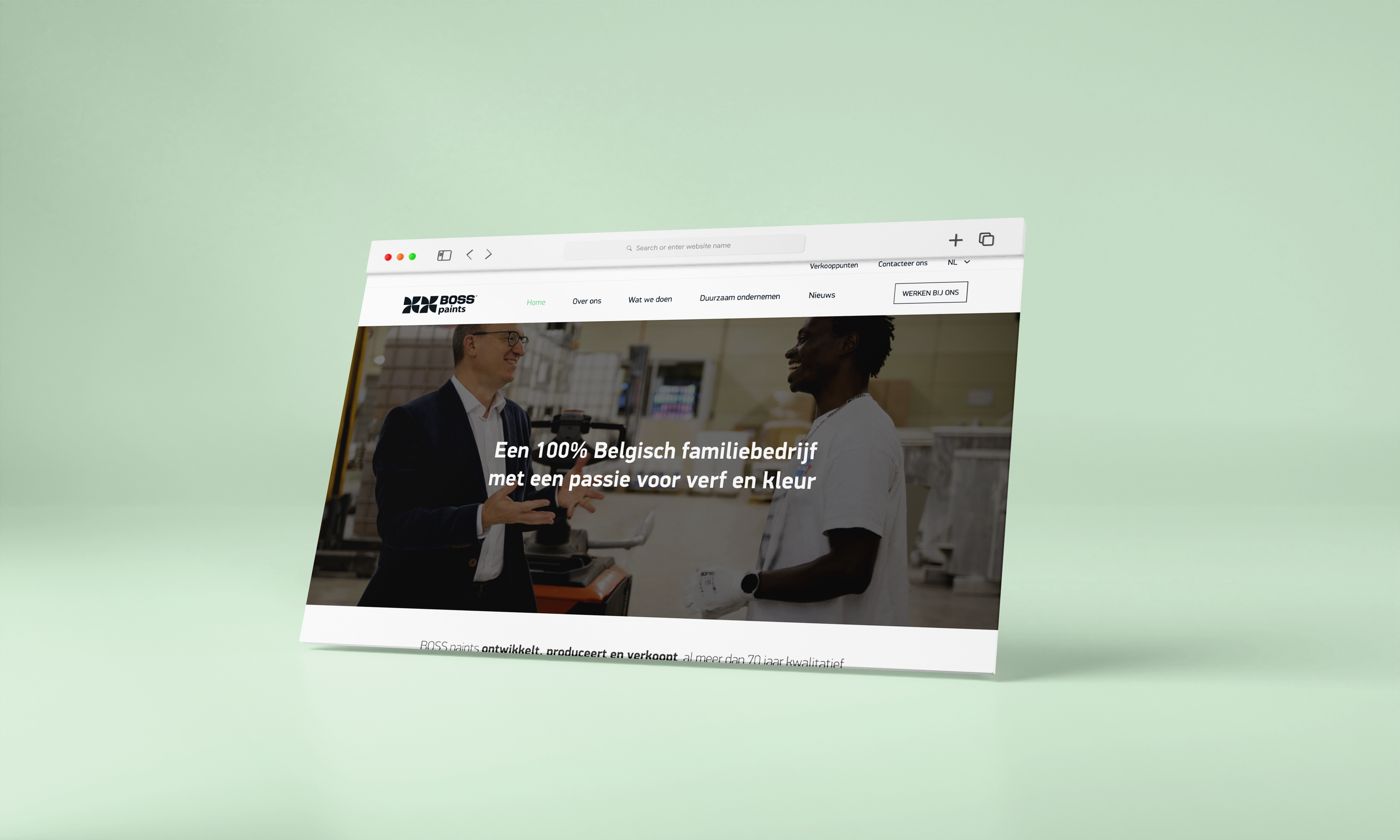 "Humix delivered 'development-ready' designs with maximal re-use of components, but still managed to bring in the creativity required by BOSS paints for their B2C website colora.be, Corporate/Job site and their B2B platform 'BOSS paints'."

Bernard Panier
Senior Project Manager
II.O
"Working with Humix was a game changer for us. Their insightful approach to design resulted in a website design that perfectly matches our brand and showcases our creativity. Their team was able to balance our business needs with a visually stunning, user-friendly design."

Elisabeth Vanherpe
Manager Digital Roadmap
BOSS paints