Olympus is a leading consumer electronics and healthcare company. Since Olympus was founded in Japan in 1919, it has become a leading provider and manufacturer of both optical and digital equipment for the healthcare industry. For over 90 years they are leading the way in endoscopy, microscopy, medical and industrial products.
The Olympus Repair Center in Paris was in need of a reporting software tool that was able to integrate data from a range of different API's. Before this, they were relying on older software, with very limited data reporting capabilities. The goal was to get all the KPI's (Key Performance Indicators) on TV screens across the different departments.
Olympus had previously evaluated different approaches for reporting data (SAP solutions, Oracle Data and even custom made Excel files). Most of these options fell short or made it very time consuming to fetch and report the data. To solve these issues we decided to choose the Klipfolio dashboarding software, as they make for a reliable and visually appealing solution when it comes to different data inputs and formats.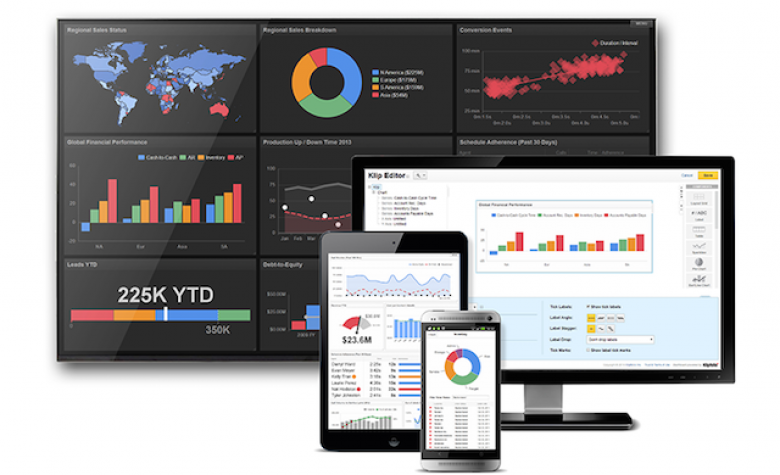 In order to guarantee a cost effective set-up, our Humix consultants worked remotely during the largest part of the project. Only for the TV monitor set-up our on-site presence was required.
With a combination of both Klipfolio and Rise Vision, we were able to develop some visually appealing and easily interpretable dashboards. Those dashboards showcase all the most vital KPI's for each department. With the help of Rise Vision we were able to project these dashboards on TV monitors. This solution helps everyone to stay up-to-date with the latest data and business goals at the glance of an eye.
We made sure the solutions we provided are scalable in regards to future updates as well as very cost effective if changes do occur. Olympus has 3 other repair centers across Europe that are looking into a similar solution as the one we have implemented in Paris.