Many of you have probably already heard about Hotjar when it comes to e-commerce websites. But can you also use this tool for informative websites? At Humix, we set up this tool for our own website and we are happy to share our experiences with you.
What is Hotjar?
Hotjar is an accessible and modern web analytics tool. The tool includes five core components: heatmaps, session recordings, funnels, form analytics, and user feedback. Hotjar offers understandable rapports with filtering/segmenting possibilities for these 5 components and helps you to quickly and efficiently find and debug issues on your website.
The all-in-one analytics tool
Hotjar is with it 5 components an overarching analytics tool that helps you to collect qualitative data, and depending from your price plan maybe also quantitative data. We will discuss each component in this blogpost and explain the possibilities of each component and how we use it on our own informative website.
(For your information: we use the basic version which is free and has some restrictions.)
Heatmaps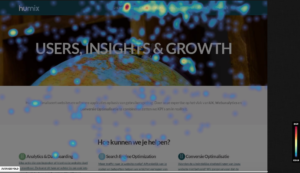 Heatmaps show you where visitors click, scroll, and pay attention. These help you identify trends in behaviour so you can discover what works or doesn't work on your site. Hotjar offers click heatmaps, scroll heatmaps and movement heatmaps. With these heatmaps you can analyse where certain content is most likely to be successful.
Session Recordings
Hotjar records the activity from each visitor on your site. All page-views, clicks, scrolls, page interactions, and typing are shown in small video's. You can adjust the speed, add comments and share these videos. Hotjar provides some details for each video that you can use for your segmentation afterwards: time, location, device type, browser, duration of the session, number of visited pages, specific pages, and so on.
You can learn a lot about your informative website from these recordings. But you don't want to go through every single one, so that's why it's important to use the filter options wisely.
A few of the cases we looked in are the following.
How many visitors are from Belgium?
How many visitors visit our contact page?
How many visitors arrive on our website through our blog? And how many of them are looking for extra information after reading the blogpost?
How many visitors read our cases?
What are the differences in user behaviour between desktop and mobile?
…
Start experimenting with the filters and you will be amazed how much information you can get from these recordings. Afterwards you can still pick a few interesting videos to watch completely.
Funnels
Funnels allow you to analyse the navigation and processes throughout your pages. This will help you to check where you lose most visitors, the so-called drop-offs. Funnels are especially used on e-commerce websites.
Form analytics
You can analyse forms and fields on your website, for example on your contact page. Hotjar measures drop-offs for every single field within a form which will reveal the fields that help or hurt conversions. You can analyse multiple forms and Hotjar will generate a rapport for every form with the time spent, the number of interactions, the drop-offs for each field, and so on.
User feedback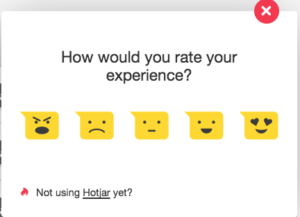 Hotjar allows you to collect user feedback on your website. Use Incoming Feedback to collect instant feedback from your visitors about their experience. Setup a Poll to ask visitors why they are abandoning a certain page, who they are or what they think of the page itself. With surveys, you can ask your users why they visit your site, who they are and how you can improve your website.
Conclusion
Many tools give you data paralysis, while Hotjar will lead you quickly and efficiently to your most important problems and opportunities. There is definitely a lot of interesting information in this tool, even though you have an informative website. With the free basic version, you can already get some results and the best part is that you can set up this tool with a few clicks. We are convinced of the potential of this tool, are you?